Affordable Drain Cleaning Service in Tomball & Northwest Houston
Unclogging Drains & Drain Cleaning North Houston TX
Drain cleaning is a very important aspect of residential and commercial plumbing. Due to our use of the best, most efficient products, we are able to service your plumbing needs, while also ensuring superior customer service. Our trained, skilled, and experienced North Houston plumbers use the newest, state-of-the-art pipeline video inspection tools, which allow us to assess damages. We use these tools, among other leak detection techniques, to find exact locations of your plumbing problems with minimal digging. We also provide snake and cable drain cleaning. If you are in the Northern Houston area, call us! Our first-rate drain cleaning services are guaranteed to prevent recurring clogs and future plumbing problems in your home.
I am very pleased with the work of your staff





"I am very pleased with the work of your staff. Your technician came out a few days before and offered me a few solutions with advice. This saved me time & money. He returned and finished the job as promised. I was impressed at their professionalism and the hard work all three men showed. They are an asset to your company."
Call today and take advantage of our limited-time offer:
$20 off ANY drain cleaning service with mention of this website!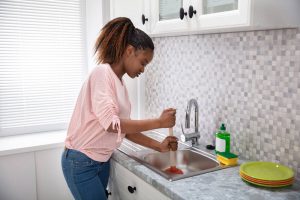 All of our licensed, insured plumbing technicians rely on proven plumbing methods, solutions, and products to maintain clear, clean, problem free drains for your home or property. We do what is needed to perform superior drain cleaning services and to remedy your clogged drains while also taking preventative steps to make future drain cleaning worries minimal to nonexistent. Our experienced plumbers will restore the maximum functioning capacity of your drain system and with all of your drain cleaning needs. If you have any questions or would like to schedule an appointment with one of our experienced plumbers for your FREE estimate and exact service quote, contact Rooter-Man Plumbers today!
Elite Cable (Snake) Drain Cleaning Service
Drain cleaning service is not just a matter of manpower; you need the right equipment to unclog a drain as well. At Rooter-Man Plumbers, we have the most modern drain cleaning equipment from small hand snakes, to drain machines capable of cleaning big sewer mains. One of our most powerful and flexible machines is the cable drain cleaning machines (also known as a "drain snake"). The cable drain cleaning machines clean the drain or sewer by rotating a flexible cable made of piano wire through the pipe. Attachments on the end of the cable aid in the cleaning process by scraping, boring, cutting, and retrieving the pipe blockage. Each type of pipe blockage requires the proper size cable and cutting head. Not everyone can use these machines to their full drain cleaning potential. It takes experienced, qualified technicians, and Rooter-Man Plumbers has them.
State-of-the-Art Hydrojetting
Commonly, with larger area clogs in commercial and industrial properties, more power is need to clean drains than just the cable snake; for these instances we use hydrojetting. The use of extreme water pressure is utilized to both clean your pipes while it moves forward and while the jetting tool moves down the pipes and is propelled by reverse water jets. The two jets work together to clear large obstructions in your pipes. Reverse water jets are the best way to break down blockage in your drain while using the force expelled from the forward water jets. While most common in commercial properties, hydrojetting can also be used in residences to remove clogs specific to substances including grease.
Video Inspection
See what's really going on in your pipes. Find out the root cause of slow draining pipes and clogs that just keep coming back. Video inspection pinpoints the trouble—allowing us to see the exact problem and determine the best solution to permanently solve it. It's the most effective method available to locate suspected problem areas. Therefore, once we have repaired it, we can take another look to verify your pipes are clean and unobstructed.
Video inspection can show:
Broken, cracked, crushed or collapsed pipes
Offset pipes – sewer pipes that have become misaligned from shifting soil, ground freezes or settling
Blockages – pipes that are obstructed from grease buildup or foreign objects.
Bellied pipe – a section of pipe that has sunk due to ground or soil conditions, resulting in a valley that collects paper and waste
Leaking joints – the seals between pipes have broken, allowing water to escape
Root infiltration – tree or shrub roots have invaded the sewer line, preventing normal cleaning or damaging the pipe
Off-grade and corroded pipes – pipes that have deteriorated from corrosion or because they were constructed of sub-standard material
Our Cleanliness Guarantee
No plumbing service should ever leave your home or business a mess. Even though drain cleaning is a dirty job, when we work in your home or business, our goal is to make your property look cleaner than it did before we arrived. Our technicians use floor mats and booties to protect your floors. They also have the experience and the expertise to clear the blockage and get your drain running free in the cleanest way and shortest time possible. Nothing is more important than your safety, comfort, and convenience, so call Rooter-Man Plumbing for guaranteed plumbing work and the most professional drain cleaning services in the Northern Houston area.
Maintenance Tip: Clogs
To help prevent clogs, fit all your tubs and shower drains with a strainer that catches hair and soap chips, and clean the strainer regularly. Do not rinse fat or cooking oil down the kitchen sink. Liquid fats solidify in the cold pipes and create clogs. Avoid using caustic liquid drain openers (like Drano or Liquid Plumber) on a drain that is completely clogged. The caustic ingredients become trapped in your pipes and can severely damage them. If you can't snake the drain yourself, let an experienced plumber take care of the job.
Call our professional Magnolia/Tomball plumbers today, and we'll have your drain unclogged quickly with no mess or fuss.